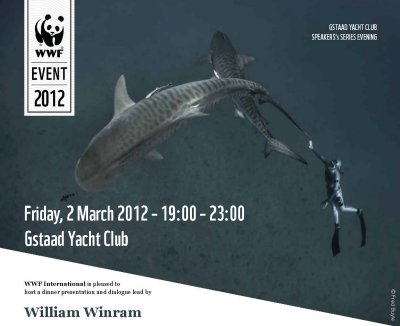 Shark Publicist in the Mountains
Gstaad, Switzerland | March 2, 2012
What (on earth) would a shark publicist be doing in the Swiss Alps? Following a meeting with the WWF International, based in Gland, Switzerland, William was asked to host a dinner presentation held at the prestigious Gstaad Yacht Club, probably the only land-locked yacht club in the world ! The guests of the evening were all ears, and most of them, though avid sailors, had no idea about the true side of sharks and were mesmerized by William's personal accounts of his encounters with sharks. Evidently, his stunning photography and videos along that of Fred Buyle made for a complete picture.
William's presentation to eighty-something people was followed by a long Q&A period which had trouble ending, so many questions continued to pour on.
William would like to thank everyone at the WWF and GYC for a perfect evening in this enchanting venue.