Team Freediving World Championship
September 8-16, 2012
A year ago, when the freediving community found out the 2012 Team Freediving World Championship was going to be hosted in Nice and Villefranche-sur-Mer, France, in the blue waters of the Mediterranean Sea, freedivers from around the world marked their calendar for an event not to be missed.
Indeed, at the occasion of the 20th anniversary of the international federation AIDA (Association International pour le Développement de l'Apnée), over 130 athletes from 38 nations crowded the French Riviera for one week.
While some teams strictly focused on performance, the members of Team Canada decided they had not come to the country of haute cuisine to eat plain rice and drink tap water. And so they went sight-seeing in Nice, Saint-Paul-de-Vence, Cannes, Monaco, Beaulieu-sur-Mer, Eze-Village and Saint-Jean-Cap-Ferrat, where they regaled in local delicacies both in the solid and liquid forms.
The ladies of Team Canada logged in their personal bests throughout the competition. However, Winram felt he needed to provide an incentive to his team mates Philippe Beauchamp and Marc-André Tratch who had arrived to the world championships with little time to train. He too had little to train for this edition of the championship, spending most of his time in the water working with scientits on shark research or on land preparing and travelling to give conferences. "I have not had a chance to dive past 76 meters this year (his winning depth at the Red Sea Cup in constant weight without fins), so I decided to announce a depth for the constant weight dive for which I would be wearing bi-fins".
This decision surprised many a safety freediver who were wondering if Winram was up to old tricks again. And he was.
In this day and age of freediving, bi-fins seem to be rather "old school" with 99% of competitors favouring monofining which is more efficient and less difficult than bi-finning.
While the deepest dive of the competition was 114 meters, achieved by French team mate Guillaume Nery with a monofin, William successfully dove down to 80 meters and back to the surface in 2'46" making his dive the deepest ever done with bi-fins at world championships, in open water no less.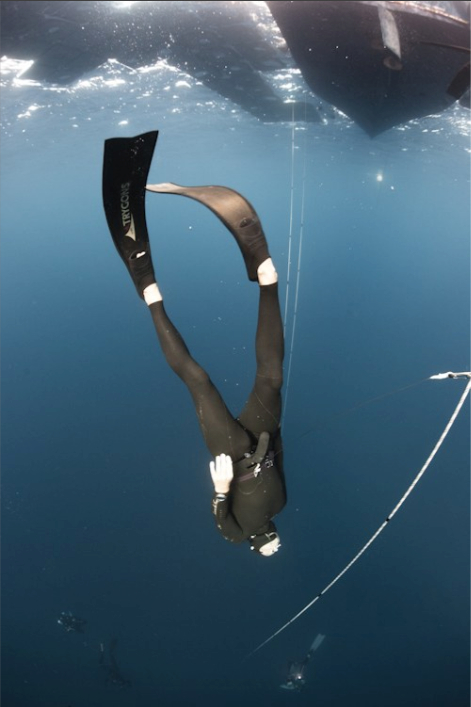 William Winram 80m CWT with Trygons bi-fins – Photo Fred Buyle
Oh and did the Winram incentive work on his team mates? Absolutely, they both registered personal bests in all their performances, including a new Provicial record for Montreal-born Philippe Beauchamp.
See you next year Team Canada !