Filming for IMAX
Oct 27 – November 2, 2012
About 8 months ago, Fred Buyle and myself were approached by a production company wanting to film us in the water with great white sharks for their upcoming feature called Great White Shark 3D shot in IMAX format.
This IMAX shoot was an amazing experience. First, we were working with a large and very professional crew ! These guys new their stuff and everyone did their jobs perfectly. The amount of gear to shoot for IMAX is staggering. The underwater housing was huge and took at least two people in the water to handle it.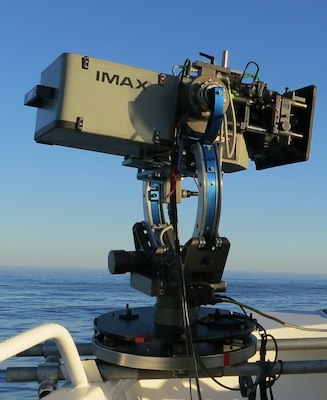 Our first challenge for the trip was that we had only three days on-site…normally, this would not pose a problem as every year that we had dove in this location there were more than enough sharks around. Well, first day we waited, and waited…getting in the water around 8am and the first shark showing up at 2pm. This gave us enough time to do a bit of swimming with the animal and to place a tag but then we ran out of light.
Day two: NO SHARKS!!! Not a single shark and I am sure the crew was getting stressed about getting some good stuff on camera…they had not come all this way at great expense just to film us in the water without sharks.
The third and final day and we start with a young, aggressive male…actually he was almost too aggressive for us to get into the water but he was quickly replaced by a large female who spent a lot of time on the surface. Late morning probably the largest Great White shark we have ever seen showed up…a female on her way to 6m in length. She had amazing energy, was so calm and actually very timid.
She was on the surface but if we got in the water she would dive down and stay down until we got out…finally we were not able to interact with her because of her timidity.
We had some good encounters with some smaller sharks – 3.5 – 4m in length and managed to place one more tag before closing out the 3 day shoot. We stopped along the way back during the 22 hour boat ride to film some surface shots.
We were given a sneak peak at some of the footage, in 3D and I am very excited to see the final product when it is released in 2013. I think this is probably going to be the closest the viewer will come to experiencing what we experience when a Great White Shark swims right by you, within an arms reach!
Big Thank you to François Leduc for joining us as our safety diver
Great White Sharks 3D is due in IMAX theaters in May 2013, stay tuned for an update.