Ocean SUP for the Soul
December 2012 – January 2013
I am very happy to announce an ambassador relationship with Red Paddle Switzerland.
Red Paddle makes inflatable Stand up Paddle boards. Yes, inflatable. And they are the best on the market.
As a surfer, being land-locked is tough but not having surfed much in the last 7 years is even tougher… but I have just not had the time to hit the waves with all the ocean conservation work.
I have been looking at SUP for a while now and even had a go a couple times on a fiberglass board – loved it!!! I thought it would make a great cross training to break up the monotony of training in the pool, etc, but how would I get an 11-foot board to the lake here on a 16-year old VW Polo?
Then I heard about an inflatable board from my friend Cédric Reynard. Cédric and I met in 2007 when we were sponsored by the same watch brand; he was a professional race car driver and of course I was a breath-hold diver. We have stayed in touch since then as we're both passionate about the sea and surfing.
When Cédric told me about the "inflatable" stand up paddle I was seriously skeptical. Inflatable?..no way. I had tried the soft surf boards that came out years and years ago – these things were touted as the safe way for beginner to learn to surf. The problem was they were corky and had a bit too much flex in them. I could not imagine an inflatable SUP being any better.
How wrong could I be? Very! When I finally go to try one out I was shocked. Completely. The board, paddles, pump and repair kit (just in case something happened) all fit in a well designed back pack and weighs in at around 14 kilos. Perfect for me to jump on the tram and head down to the lake for a paddle.
Ok, it fits in a back pack and is easy to carry to and from the lake but it probably takes 45 minutes to inflate, right? Wrong again. It took me 15 minutes from the moment I unzipped the back pack until the board was fully inflated and ready to go.
What about flex? It comes with stringers to insert along the rails of the board to stiffen it but to date I have not needed to use them. The board is amazingly stiff considering it is inflatable but honestly I have not noticed any sufficient decline in performance such that I would consider riding another board… I love this board!!!
I brought the board with me late December for a short vacation while visiting friends in the San Francisco Bay area. I wound up on tidal lagoon Lake Merritt, right in the city center of Oakland. It was cold but sunny and a total blast!
Early January, my next travels took me somewhere in the Pacific 250 miles from shore.
It was part of an expedition for The Watermen Project, tagging hammerhead sharks in the Revillagigedo Islands, on a live-aboard expedition.
While I was not able to stand up paddle every day after breath-hold diving, it was still great fun and a great way to wind down after a long day of deep dives tagging sharks. I inflated my Red Paddle and took off, hoping for a whale, shark or dolphin encounter out there in the middle of the Pacific Ocean.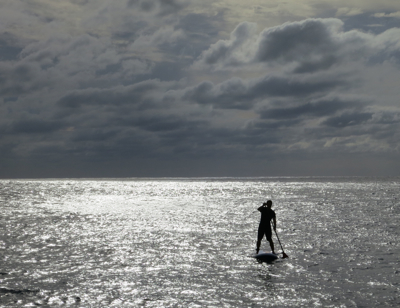 Try this in Google maps: 19.297 -110.811 decimal degrees. Would you SUP there? Of course, you don't have to go that far off the coast to get a great crossover training.