From City Dweller to Ocean Diver
Geneva, Switzerland – October 1, 2014
This had to probably be the most original experience with a photographer on land, well sort of on land.
Anna Pizzolante brought a suit along, with a tie no less, and she asked me to don it. And then she wanted me to get in the pool. I felt I had to explain that I usually wear a more proper attire if I need to get in the water (something aptly named a wetsuit) and that I certainly didn't want to get that suit wet.
She said "Go with it, trust me", and so I did.
Lucky for me, October 1 was a nice and sunny day. The outdoor pool where the interview was conducted had already closed for the season, but the staff were kind enough to allow us in, literally.
After the hour-long interview with Migros Magazine's in-house writer Alain Portner, it was time to have pictures taken to illustrate the article.
Walks in Anna, who gets down to her bikini. She is definitely not here to swim, but she is quite serious about getting the pictures she has in mind, so if I have to get wet, so will she.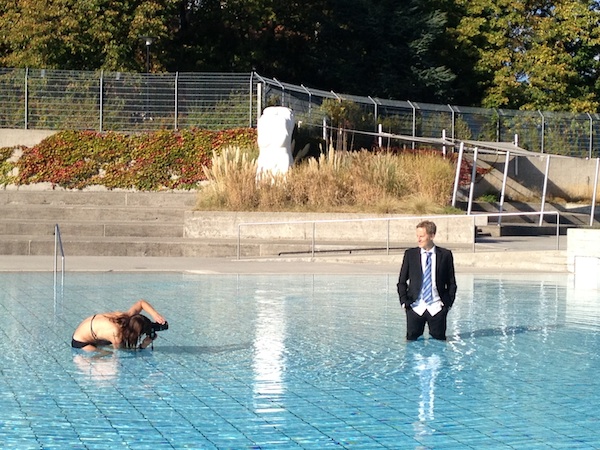 I was very pleased with the article particularly around my involvement with ocean conservation. What I had not expected is to make the cover. Imagine that.
Migros Magazine is a paper mag with over half a million copies in circulation every week.
You can read the complete article here.