Skandalopetra diving
Saint Paul's Bay, Lindos, Rhodos, June 21 – 26, 2010
Little known fact: the ancien Greeks had surfing all figured out. That's right, keep guessing, we'll get to it.
This time around William partook to a new kind of diving. Looking forward to trying the ancient Greek form of stone diving, he and a happy bunch of freedivers, namely Anna von Boetticher, Robert King, Fred Buyle, Philippe Beauchamp and Matt Souza flew to the island of Rhodes, one of the closer islands to the Turkish coast, to participate in the Skandalopetra Games.
But first, it was time to rest and relax after two intense weeks of diving at the World Cup of Freediving, in Kalamata, Greece. After a long day of travelling the group finally arrived in what can only be called paradise. Charming hosts Claudio and Irini did their utmost best to make all of them feel at home by treating them like family rather than hotel guests.
After a well-deserved dip in the huge swimming pool, they headed into Lindos town to enjoy their first Rhodian dinner. A word to the wise, if in Rhodes, make sure you plan your visit to the island to coincide the RhodesRock Festival. Nestled in Lindos, at the foot of the ancient amphitheater, the festival accoustics are just out of this world and the view from the nearby restaurant rooftops is simply stunning. Another recommandation to those who like to eat authentic food (versus tourist fare): head to Olympia's rooftop where you will enjoy fabulous Greek food served by a friendly staff, under the stars.
A digestion and good night sleep later, it was time to focus on the matter at hand. Stone diving. Huh? Who would want to do that?
The ancient Greek sponge divers would use the petra (stone), diving and steering themselves to a spot on the sea floor rich in sponges which they would gather up. This technique was paramount to the economic prosperity of the region.
Today, while it is no longer used to commercially collect sponges, this ancient form of diving is practiced by recreational and competitive freedivers, without a wetsuit or a mask. The only items allowed are a bathing suit and a nose clip.
Eventhough the air was warm and the surface temperature of the water was comfortable, several thermoclines were lurking below the surface. This posed a challenge to those attempting the depths only wearing a speedo.
William spoke with Herbert Nitsch, current world record holder in the discipline, and found out that he too had suffered from the difficulties in equalizing through the shock of changing temperatures at each thermocline. As Herbert pointed out, time is needed to train in those conditions.
So why surfing you may ask?
Skandalopetra can be likened to surfing because once you enter the water you quickly realize you can use the petra to steer just like you would with a boogie board or while body surfing on a wave. Underwater surfing… who knew?
The really cool part about petra diving is that you don't have to swim or pull yourself back up. THAT is done by your partner who will pull you up while your feet rest on top of the petra and you hang on to the rope. Indeed, Skandalopetra diving is a 2-person discipline, where you alternate between being the diver and the puller.
On the first training day, Fred Buyle and William teamed up. William was to dive and Fred would pull him back up to the boat. William swears Fred was pulling him back so fast, he felt like a fish heading for the barbecue.
The water entry is crucial in Skandalopetra diving. True to himself, William quickly developed his own style…
Skandalopetra diving is not to be tried without proper freediving experience and guidance. The slab of stone is stronger than any bones and mishaps can be painful.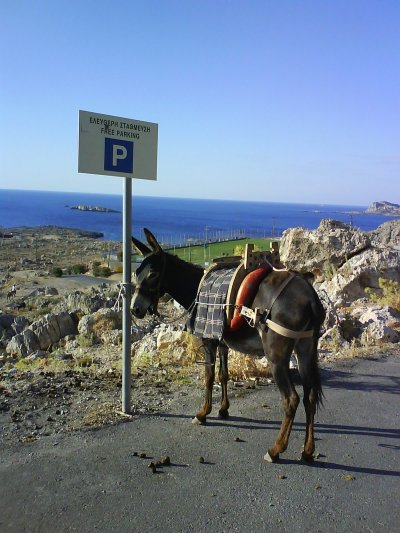 The sign did say "Free Parking", watcha looking at? | © Michèle Monico