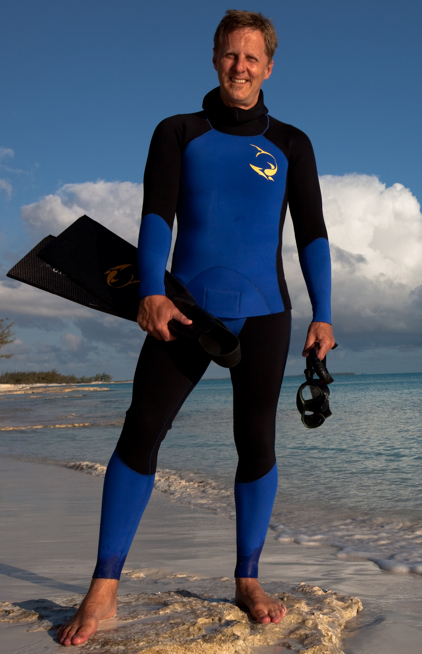 ©

Michèle Monico
A life on, in and around the water has always been a part of William's heritage. Born and raised in the Canadian Pacific Northwest in the early 1960s, he learned to freedive with his father, a scuba instructor and Search & Rescue diver. By the age of ten, William was diving to twelve meters on a single breath of air.
For the next ten years, he spent most of his time swimming laps in a pool as a competitive swimmer. Occasionally, there was the odd foray to the ocean with his father, but mostly his focus was winning medals in the pool.
A waterman at heart, William is also an avid big wave surfer and has been fortunate to have many opportunities to swim with dolphins, whales and sharks, the latter being his passion. He discovered freediving was a competitive sport in 2005, and quickly became part of the elite, earning several medals at World Championships and setting countless Pan-American records in virtually all disciplines.
A natural-born explorer, he set a historic first on June 1st, 2007 by becoming the first man to dive the 60-meter deep and 30-meter long Arch in the Blue Hole of Dahab, Egypt, without fins and on a single breath of air.
After three years of competitive freediving, he started lending his breath-hold diving skills to a meaningful cause, ocean conservation. He has since been photographing large marine animals and placing tracking devices on these apex predators for researchers.
In 2009, together with underwater photographer and freediving word-record holder Fred Buyle, he created Ocean Encounters offering trips with breath-hold diving and an environmental focus. They did this together for a few years until they both decided to spend more time into their respectful fields.
In 2012, wanting to take his participation to ocean conservation projects to the next level and after two years of looking for funding, William Winram founded The Watermen Project, an NPO dedicated to ocean conservation. With the help of donation money, shark tagging expeditions take place around the globe.
In 2013, he was named Ocean Ambassador for the Global Marine and Polar Programme of the IUCN (International Union for the Conservation of Nature), the oldest and largest conservation/environment membership organization in the world, which brings together states, government agencies, non-governmental organizations, scientists and experts in a unique worldwide partnership.
Today, while William still competes at an international level, he shares his time between underwater filming, teaching specialty seminars on breathing and breath-hold as well as coaching other freediving competitors.
Back on land, Winram also gives himself to public presentations on shark behaviour and conservation, in various parts of the globe, using the media garnered during expeditions to educate the public about true shark behaviour.
He is the holder of two world records and one historic record.
"Make no mistake: breath-hold diving is a very challenging activity, both for the body and mind, which requires proper training and knowledge, particularly around safety concerns.

Freediving is about the freedom of being unencumbered by bulky equipment; the freedom to explore the underwater world and interact with its many creatures in the most natural, non-invasive way.

Ultimately, freediving is about expanding the possibilities of human potential."


William Winram

Ocean Explorer & World Record Freediver
Founder of The Watermen Project
IUCN Oceans Ambassador
Brand Ambassador of DeepBlu